After nearly four years of project activities, we look forward to share with you our journey, learnings and achievements.
Join our Final Conference 'Digitalize DSOs to Unlock Flexibility'!
We invite you to discover how the project responded to the challenges brought by the energy transition and the impact of Platone's solutions towards the digitalization of Distribution System Operators (DSOs).
Together with our project partners and exceptional guest speakers from all across Europe we will deep dive into the success stories of Platone and discuss the future of flexibility procurement, Open Source for energy data management and network observability. In our showcase area, you will have the chance to interact directly with the project partners and the innovative products and services they have developed, discovering the Key Exploitable Results of the project.

Curious to learn about the next steps? The event concludes at 17H00 CEST but it will be followed by a get-together buffet offering a great networking opportunity to engage in the uptake of Platone's solutions!
Take a look at the detailed agenda:

09:00

Welcome

09:10


Keynote: DSOs Face the Future

09:25

Digitalize DSOs to Unlock Flexibility: The Platone Project
Speaker: Pr. Antonello Monti, Platone Project Coordinator, RWTH Aachen University
09:45

Panel Discussion: Open Source to accelerate the energy transition
Moderator: Pr. Antonello Monti, Platone Project Coordinator, RWTH Aachen University
10:35

Panel Discussion: Thinking Regulation and Innovation
Moderator: Ercole De Luca, Head of Electrical System Development at areti SpA and leader of Platone Italian Demo
11:25


Key Exploitable Results-Pitches

12:15


Lunch break at showcase area

14:00


Welcome back

14:05


Keynote: The value of demonstration projects

14:20

Platone Demo Panel: Key learning and steps ahead
Moderator: Selene Liverani, E.DSO
15:20


Coffee break

15:35


Joining forces: Cooperations to accelerate innovation

16:25


The Platone Journey Continues

16:45

Closing remarks
Speaker: Roberto Zangrandi, Secretary General, E.DSO
17:00

Get-together at showcase area with drinks and buffet

19:00


Closing doors / end of event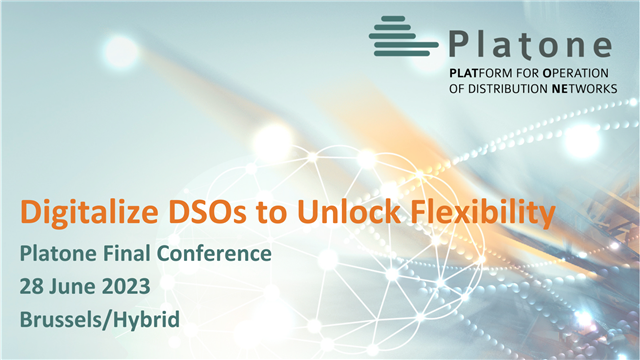 Wed, 28.6.2023, 9:00 - 19:00 Uhr
Brussels
Organizer: Platone
Further information