At this year's International Conference & Exhibition on Electricity Distribution (CIRED), Platone was represented with four papers in the CIRED Technical Sessions.
CIRED, the Leading Forum where the Electricity Distribution Community meets, holds the major International Electricity Conference & Exhibition every two years in different venues in Europe with a worldwide perspective and participation. The 27th edition of CIRED was held in Italy's capital city Rome on 12-15 June 2023. Above 2000 participants joined three full days of technical presentations and discussions, covering the very latest challenges and issues, facing electricity distribution today and in the future.
From the Platone project four papers have been accepted for the poster sessions, which offered - with oral presentation and pre-arranged guided tours - the opportunity for in-depth discussion with presenting authors. The poster sessions were part of the 6 CIRED Technical Sessions.
The paper "Innovative Digital Solutions That Enable Local Energy Communities to Provide Flexibility Services to the DSO: the Avacon Approach" by Ilaria Losa, RSE, Italy, Benjamin Georg Petters and Navreet Dult from AVACON, Germany was part of the Session 5 "Planning of Power Distribution Systems", chaired by Fabrizio PILO from University of Cagliari, DIEE, Italy. Session 5 dealt with short- and long-term development of high, medium and low voltage distribution networks, concerning the changing requirements for electricity distribution including, but not limited to smart grids and active distribution networks, electrification and electromobility, energy storage, flexibility, distributed energy resources integration, present and future customer quality of supply requirements, and optimum asset utilisation techniques and strategies. The paper, presented as oral presentation in the Sub block 4 on Flexibility Solutions by the Platone partners, describes structures and use cases implemented by the Platone German demo located in a rural area in the northwest region of the Lower Saxony, characterized by an increasing number of distributed energy resources that are causing a change of behaviour in the energy consumption and generation patterns. Within such a framework, local energy communities can introduce additional sources of flexibility contributing to mechanisms that increase efficiency and safety of supply in distributions grids.
In the Session 3 "Operation", Platone presented two papers. Session 3 dealt with operational use of components and systems in public, industrial and private distribution networks in normal operation as well as in any case of disturbance. The session covered all aspects of grid operation including strategies and management topics, challenges and new application, the integration of DER and special applications. Both papers of the Platone experts were part of the guided tour on strategies and management:
"

Balancing PV Generation In Low Voltage Grids With Limited Data

" by Christoph Jätz, Benjamin Petters, Navreet Dult from Avacon Netz GmbH, Germany and Amir Ahmadifar and Antonello Monti from RWTH Aachen University.
"

Optimal Management of Flexibility Services at LV Distribution Grid Level

" by Riccardo Nebuloni, Valentin Ilea, Politecnico di Milano, Italy, Cristian Bovo, Università degli Studi di Pavia, Italy, Alberto Berizzi, Politecnico di Milano, Italy, Carlo Arrigoni, Siemens, Italy, Roberto Bonera, Freelancer and Brunella Conte and Franco Conti, Siemens, Italy.
In the Session 1 "Network Components" the paper "Requirements For Large Scale Battery Storages In Low Voltage Grids - Lessons Learned From A Smart Grid Project" by Navreet Dult and Benjamin Petters from Avacon Netz GmbH, Germany was presented as part of the guided tour on disruptive innovation, new usages and prospective. Session 1 dealt with all aspects related to the components used in the electricity distribution networks and covered topics related to the life cycle of assets from design to end of life management. It aimed at providing an overview of the state-of-the-art and proposals for future components as well as components for more resilient networks in the context of climate change anticipation. This session was an opportunity especially for DSOs and manufacturers to share their challenges.
All four papers will be available open access very soon.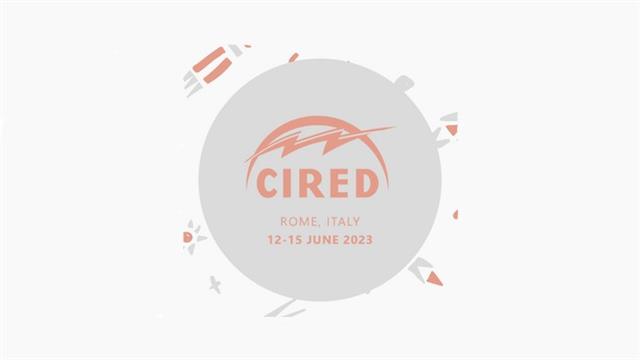 Mon, 12.6. - Thu, 15.6.2023
Rome, Italy
Further information