"Socrates or Plato – whom shall the future energy system follow?" This question was raised at our session at the EUSEW Energy Talks!
On 27 October Platone hosted an Energy Talk together with our partner H2020 project FEVER arising the question of how energy democracy and system stability can go together. Or to put it in another way: Socrates or Plato – whom shall the future energy system follow?

Socrates and Plato agreed: "The secret of change is to focus energy not on fighting the old, but on building the new".
For different reasons both said that democracy is a good step forward but not the ultimate solution. Nonetheless, Socrates defended the democratic system he lived in, while Plato distrusted democracy more. Mainly because in democracies he saw people prioritizing wealth and property accumulation as the highest good – rather than searching for wisdom, knowledge and bests solutions. Socrates had invented a method for it: activating people by asking questions in a dialectic method making them think through a problem to a logical conclusion.
In the light of EC goal consumer in the center: Is that the method we need to better involve consumers, customers and citizens in the clean energy transition?
This leads to the more concrete questions:
How much technical distribution will we see?
How much democratic decision can we give to citizens?
How much democracy do we need to make energy transition happen?
Our 4 experts gave their key position in 99 seconds each to stimulate discussion:
Prof. Antonello Monti, RWTH Aachen (EU project Platone)
Christopher Schneider, Stadtwerk Haßfurt (EU project FEVER)
Esther Hardi (Energy community 2030.nu and ETIP SNET)
Todor Galev, Center for the Study of Democracy in Sofia (EU projects ENABLE.EU & REFEREE)
The Introduction and moderation of the session was up to Ludwig Karg, B.A.U.M. Consult, projects Platone, FEVER, REFEREE and ETIP SNET.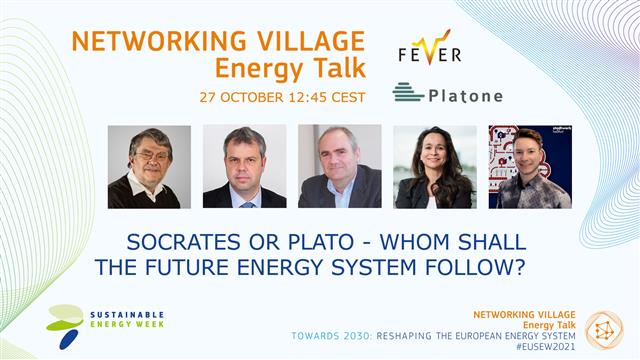 Wed, 27.10.2021, 12:45 - 13:15 Uhr
Online
Organizer: European Climate, Infrastructure and Environment Executive Agency (CINEA), in close cooperation with the Directorate-General for Energy.
Further information